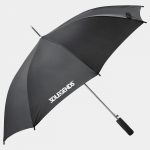 3DLEGENDS® umbrella black
In stock
3DLEGENDS® umbrella black
€24.95 Taxes included
3DLEGENDS umbrella with a 102 cm diameter in premium quality with black handle.
Comfortable to hold and lightweight
Specifications:
All our products are made with care and checked before they get sent to you. Please make sure you check the right size for you. All the products are made out of a cotton mix blend to ensure the right quality is provided that will stay good for a long time.
Care & Maintenance:
You can machine wash our clothing inside out at 30 degrees, don't tumble dry and don't iron the prints on the clothing. Also be carefull of using aggressive soaking detergents as they might fade the colors.
Only logged in customers who have purchased this product may leave a review.